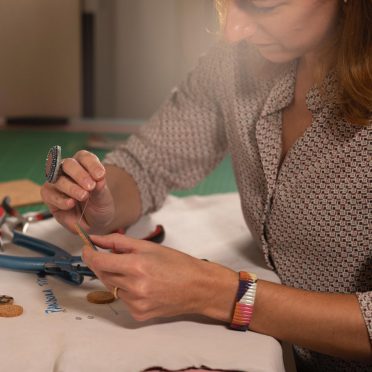 The Gioie di Carol project
Gioie di Carol project was born from the idea of an alternative use of cork stoppers to create absolutely original, colorful and large-sized jewels, but, however, very wearable just because of its important peculiarity, namely lightness.
So how are my bijoux made? The cork stopper is cut and painted by hand,  and transformed into a component as a substitute for pearls and pendants. Obviously, the combination with crystals and colored stones never fails because the mood that characterizes me is surrounding myself with colors and glitters just like a Wood Magpie.
After a great success of this kind of bijoux, I widened my interest towards the cork fabric, also called vegetable leather, for the creation of small clutch bags.
In addition, I attended the leather goods course held by the leather goods master Salvatore Nicosia, which allowed me to learn the techniques of designing and creating a bag and above all it brought me closer to the fantastic world of leather.
Even today, my jewelry and fashion accessories combine the easy, ecological and light soul of cork with the warm, chic and comfortable style of leather, which often comes from surpluses of the fashion industry.
Follow me on the social networks Instagram and Facebook and if you also have a Gioie di Carol creation share photos using hashtags
#Gioiedicarol and #acorkaffair.